outdoor aluminum ceiling panels
The perforated cladding of Chalco's outdoor aluminum ceiling panels also serves a practical purpose. According to the size of the perforation, the amount of natural light reaching the inside of the building can be managed. Large perforations allow more natural light to pass through the cladding, but still protect buildings with large glass elements from direct sunlight. Doing so can reduce the increase in solar energy and reduce the demand for energy-intensive air conditioning systems.
Chalco's outdoor aluminum ceiling panels are suitable for every surface. They are composed of boxes and special-shaped panels made of painted aluminum front and back. They are made of polished or brushed stainless steel. These CNC cut metal exterior walls have special hooks on their vertical sides that can be fixed to the main carrier. They are designed to be shaped according to the customer's needs and perfectly integrated with all the architectural elements of the exterior covering, such as sun protection or linear staff.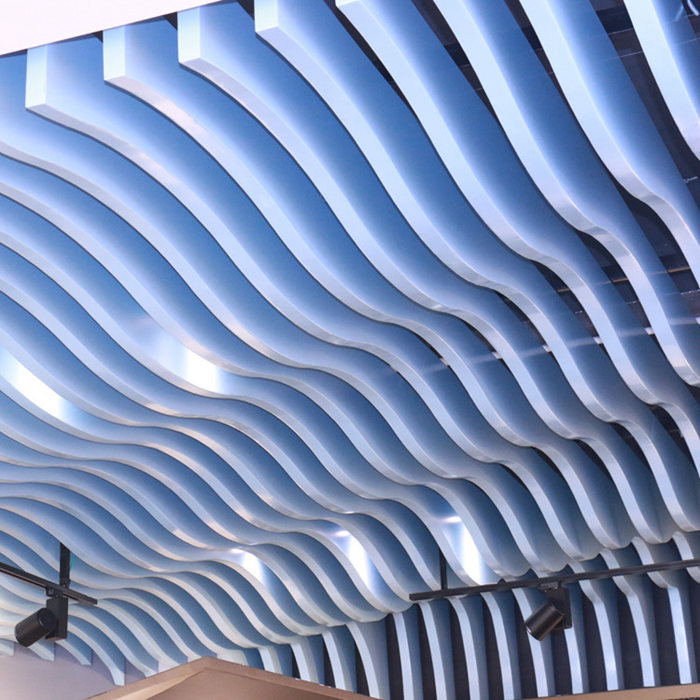 Chalco's outdoor aluminum ceiling panels, through the toning and texture settings, as well as the computer automatic spray gun spray paint, imitating the marble aluminum panel with different colors of paint and patterns. Compared with other general-purpose coated panels, this sprayed aluminum panel has unique advantages, such as excellent weather resistance, UV resistance, long-lasting color stability, and good acid and alkali resistance. It can withstand harsh conditions.
Specs

Name

outdoor aluminum ceiling panels

Surface

PVDF coating/powder coating/wood grain

Coating brand

PPG / AkzoNobel / Nippon / Sunload

Alloy temper

AA1100H24,1060H24,3003H24,5005H24

MOQ

100 square meter

Production capacity

45000 suare meter/month

Application

Outdoor ceiling