The characteristics and advantages of mineral wool aluminum composite tile are as follows:
(1) High strength, durability and energy saving: Our aluminum mineral wool board combines the compressive resistance of mineral wool board and the high strength of aluminum board to make the board surface smoother and impact resistant; while protecting the mineral wool board, it While the service life is longer, the thickness of the aluminum plate is reduced (from 1.2mm to 0.6mm), which saves metal resources.
(2) Heat preservation: The thermal conductivity of the aluminum mineral wool composite board is very low, and it has good heat insulation performance, and the mineral wool board and aluminum foil can effectively prevent air convection and maintain the indoor temperature.
(3) Anti-staining and scrubbing: The surface of the aluminum mineral wool composite board is splashed with ordinary oil and sewage, smoke stains, condensed water stains, etc., and it will be refreshed with a damp cloth.
(4) Water-repellent and non-moisture absorption: If the aluminum mineral wool composite board is soaked in water, it will not be deformed, swelled, and will not affect its performance.
(5) Easy construction: It is easy to carry and cut, and it can be cut with an ordinary hand saw or a portable electric saw.
(6) Fire protection: The aluminum mineral wool composite board is tested as A2 according to the GB8624-2012 standard, which can effectively delay the spread of fire.
(7) Sound absorption: The sound passes through the perforated aluminum plate and the mineral wool board. Because the mineral wool board contains a large number of porous fibers, the sound converts sound energy into heat energy through fiber vibration and mutual friction, which greatly reduces the reflection and transmission of sound waves. Good working and living environment.
(8) Breathability: The porous fiber of mineral wool board has good ventilation function, which can effectively reduce mildew caused by condensation.
(9) Safety and environmental protection: Aluminum mineral wool composite board does not contain asbestos and will not produce toxic and harmful gases in a fire.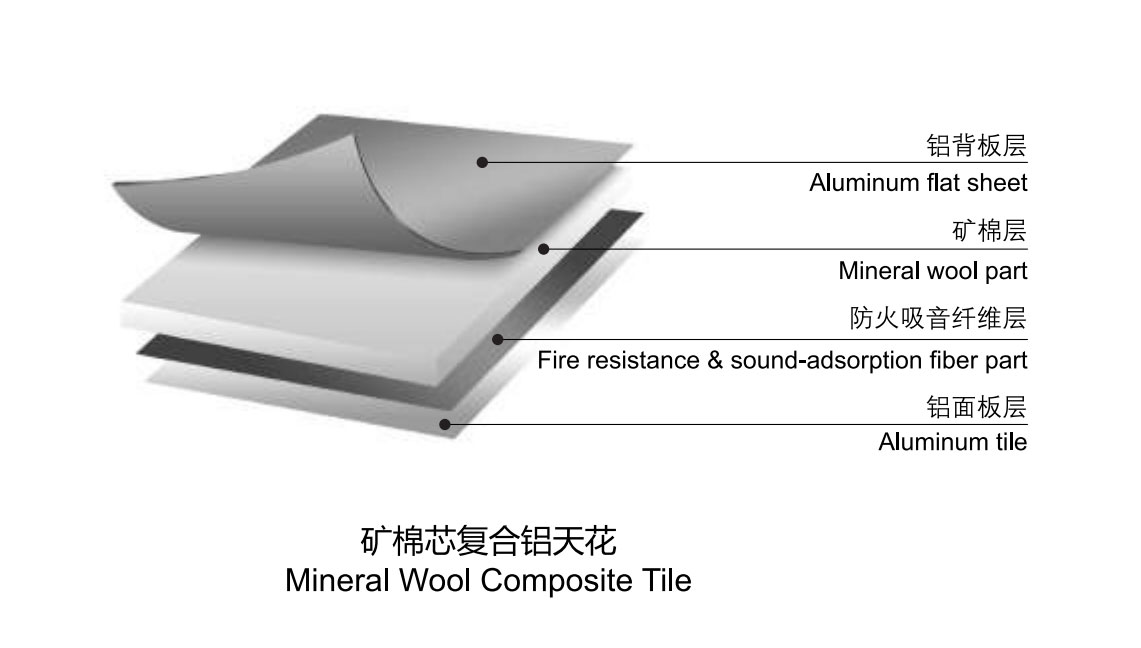 Standard size: 600×600mm, 600×1200mm, 800×800mm, 1000×1000mm, 1000×1200mm, 1200×1200mm