Aluminum honeycomb panels are derived from composite honeycomb panel technology in the aviation industry. They are a typical sandwich construction method consisting of a panel, a bottom plate and a middle aluminum honeycomb. The aluminum honeycomb panel manufacturing technology adheres to the essence of the honeycomb composite mechanics of the aviation industry. It relies on the strong technical background of our factory for more than ten years of aluminum plate forming and original coating baking technology, based on the "high-tech, high-quality, first-class quality "Business philosophy, dedicated to the research and promotion of aluminum honeycomb structure materials, introducing domestic advanced aluminum honeycomb composite production technology and automatic assembly line equipment, and selecting the company's unified standards of high-grade aluminum alloy coils, honeycomb core materials and high-quality adhesives Developed a series of honeycomb panel products. Aluminum honeycomb panels series has the advantages of excellent material selection, advanced technology and reasonable structure. It not only has excellent performance in large scale and flatness, but also has many choices in terms of shape, surface treatment, and color.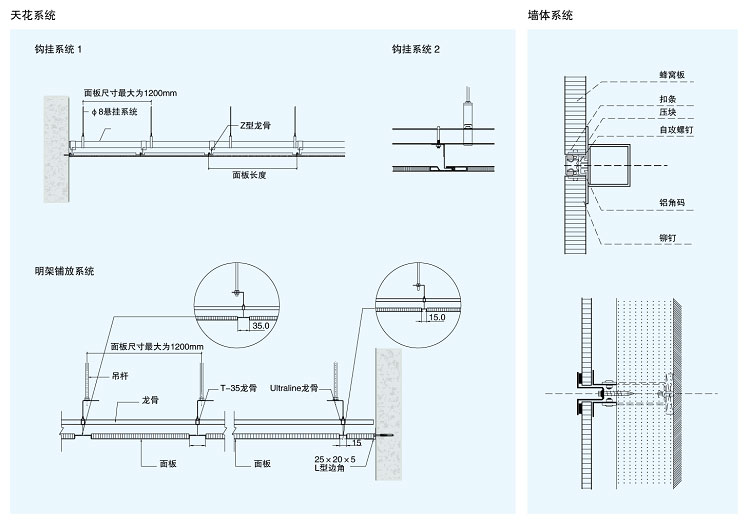 Item
Parameter
Total thickness
Curtain wall standard: ≥10mm Range: 5—200mm
Top panel
Material: high-grade aluminum alloy (brands 3003, 5005, 5754)
Curtain wall standard: thickness ≥1.0mm; conventional thickness: 0.7—1.0mm
Core
Material: 3003 anti-corrosion aluminum honeycomb core
Size:6×0.06mm
Back panel
Alloy: 3003、5005、5754
Standard:Thickness≥0.7mm
Dimension
Normal size:1500×5000mm;Maximum size:2300×15000mm Out of this range, please discuss with our company.
Binder
Two-component high temperature curing polyurethane adhesive.
Surface treatment
Pre-roll coating / anodizing / coating, etc.
Color
Plain color, metallic color, pearlescent color, imitation wood grain, imitation stone grain, imitation ecological texture, brushed, mirror surface, etc. Customize the required color according to customer needs.
Fire performance
A2(GB8624-2012)
Features of aluminum honeycomb panels:
-High panel flatness
-Easy and quick installation
-Light weight and high strength
-It can realize the large surface plate
-Honeycomb core material contributes to the insulation effect of the space
-Rich colors and surface treatments to choose from
-Excellent customized processing capabilities to meet the individual needs of customers
-High-quality materials and advanced processing technology to ensure product durability
-Various installation systems are suitable for different solutions, and are easy to install and maintain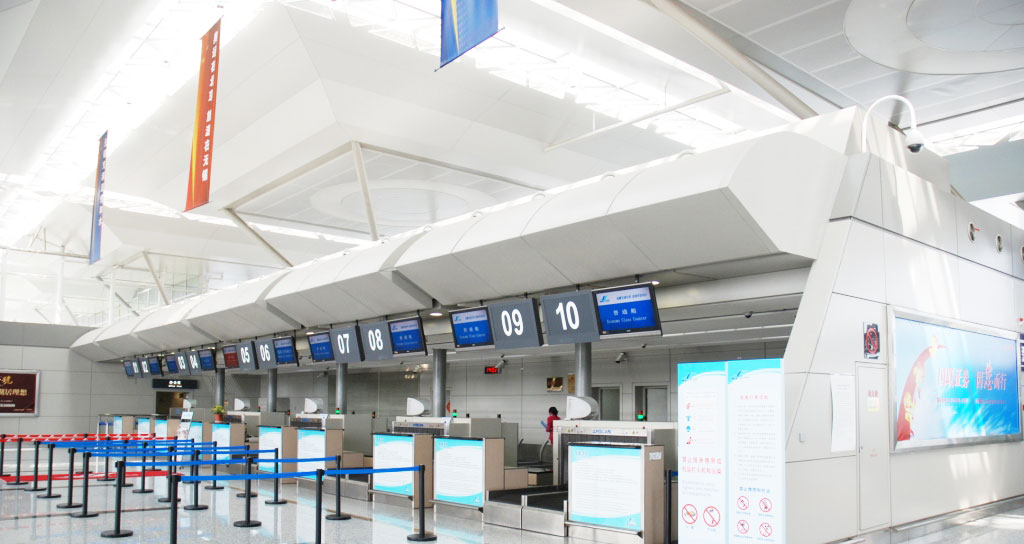 Application areas of aluminum honeycomb panels:
1. Construction field:
Aluminum honeycomb panels are often used to make ceilings in subway stations, large shopping malls, and conference rooms. They can also be used as curtain walls and roofs of high-rise buildings. They can also be used as screens, sound insulation panels for banks and hotels, and portable mobile rooms. The aluminum honeycomb panel not only has a good decorative effect, but also can take advantage of the vibration and energy absorption characteristics of the honeycomb panel to reduce casualties and property losses caused by earthquakes.
2. The field of transportation:
(1) Trains and high-speed trains: The interior panels of vehicles such as bulkheads, control panels, luggage racks, ceiling pads, washrooms, toilet units, floors, exit doors and four-corner doors can be made of honeycomb panels. In addition, honeycomb panels can also be used for external components such as the front end, roof, guard plate, and vehicle body. In addition, the energy-absorbing and shock-absorbing characteristics of the honeycomb structure can be used as a protective device, such as installing the honeycomb panel on the front of a high-speed train to protect the driver's personal safety in the event of an accident.
(2) Ships: In order to reduce the weight of the hull, simplify the structure, and improve efficiency, the lightening of the internal equipment of the hull has received increasing attention abroad. The use of aluminum honeycomb composite panels for inner wall panels, ceilings, and door panels has achieved significant results. This new technology has changed the technical performance of the parts, prolonged the service life, and reduced maintenance and repair work. At the same time, it gives people a sense of comfort and improves the aesthetics of the cabin.
3. Solar energy field:
Aluminum honeycomb panel has the characteristics of light weight, high strength, and high flatness. It is a regular hexagonal hollow column honeycomb core cell, and the light transmittance to parallel light can reach more than 97%, but for non-parallel light, the cell wall panel It can block most of the light that is not perpendicular to the panel and cause it to reflect multiple times on the opaque honeycomb wall panel, thus absorbing most of the incident light. Utilizing this light absorption performance of the honeycomb panel, an aluminum honeycomb sandwich structure solar collector panel can be made.
4. Printing table and mechanical table:
Aluminum honeycomb panel can be used in the production of printing platen due to its advantages of light weight, high strength, good flatness, and no deformation when heated. The printing platen produced by our company is not deformed when heated, and the flatness error of the entire platen can also meet customer needs and can withstand the user's on-site inspection. In addition to printing platens, it can also be used for anti-vibration tables, automatic drawing boards, printing boards, dyeing and finishing boards, punching machines, frames, etc.
5. Furniture and home furnishing fields:
For the modern furniture industry with strict environmental protection requirements, using honeycomb panels to make furniture processing materials is a good material choice in the new century. Its completely non-toxic green quality makes furniture manufacturers less expensive when processing furniture. In addition, the aluminum honeycomb panel can be diversified, such as solid wood, aluminum board, gypsum board, fireproof board, medium fiber board, natural marble, etc., can be made into honeycomb panel, and the material selection is convenient.