aluminum ceiling curtain track
Aluminum ceiling curtain track is made of aluminum alloy and can support heavy curtains weighing up to 20kg. Advantages: flexible, flexible and easy to install - wall or ceiling mounted, strong, durable, easy to bend to fit most bay window installation and removal, unobtrusive. Suitable for light to heavy curtain.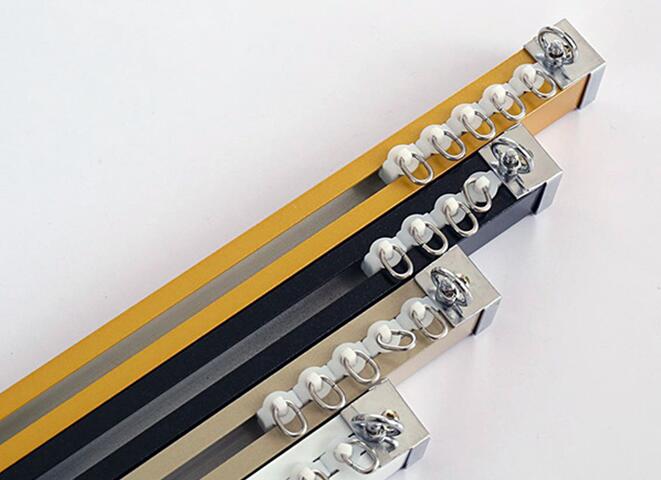 Material classification of curtain track
Now there are many kinds of curtain track materials on the market, such as wood track, aluminum alloy track, steel pipe track, rail art track, nano track, etc., so which kind of curtain track material will be better?
Aluminum alloy rail: aluminum alloy rail is the most popular material in the market, because it is cheap, durable, not easy to rust and so on. With the development of modern technology, aluminum alloy can also have a variety of colors and styles. At the time of purchase, the wall thickness of aluminum alloy and its own weight are very key reference factors.
Wood Rail: Wood rail is generally combined with other metal materials in the decoration market, with good texture, color, style and so on. When choosing, we should pay attention to whether other metal materials are superior, whether the paint on the surface is smooth, etc.
Steel tube rail: steel tube rail is actually a kind of rail. Its surface treatment generally includes spraying and electroplating. Comparatively speaking, the color of electroplating is somewhat single. When selecting, it mainly depends on the quality of surface coating of steel tube and the thickness of tube wall.
Nanorail: nanorail is essentially a plastic product, but its life and toughness will be better than ordinary plastic. But compared with aluminum alloy or other materials, the track is slightly worse.
Application:
Hotel bedroom, bedroom,
Medium surround curtain
Home Furnishing curtain
School curtains
Decorative exhibition curtain track