Sound absorbing aluminum panels
Sound absorbing aluminum panels are ordinary aluminum gusset plates with many small holes on the top and a layer of non-woven fabric on the back, which can ride to the effect of sound absorption. Sound absorbing aluminum plate gusset plate is also called silencing aluminum plate gusset plate.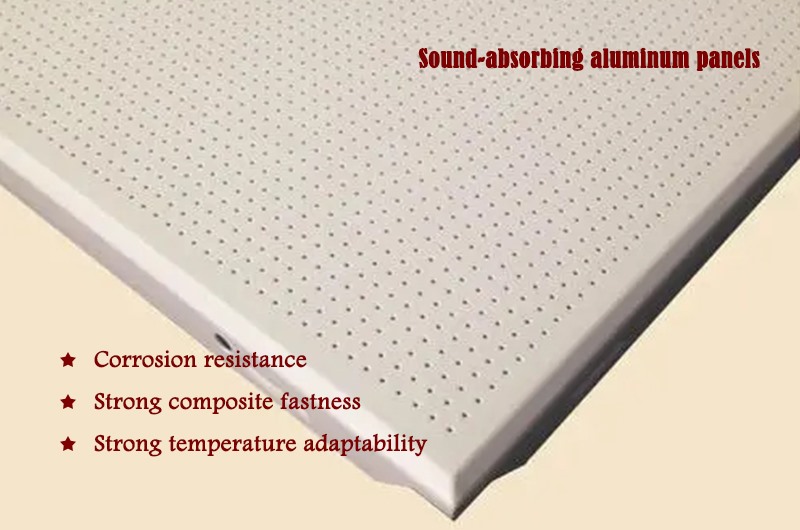 Sound absorbing aluminum panels advantages:
The board surface is flat without color difference, the coating has strong adhesion, can resist the erosion of acid, alkali and salt fog, does not change color for a long time, and the coating does not fall off. Fluorocarbon coated board is an ideal decorative material for outdoor use, with a service life of more than 20 years, convenient maintenance, and clean as new after washing with water.
Strong compound fastness. High quality sound absorbing aluminum panels are made of selected high polymer plastics and polymer materials by hot pressing. Generally, there is no damage to the adhesive layer after 2-hour boiling water test.
Strong temperature adaptability. Sound absorbing aluminum panels can generally be used under large temperature changes, and its excellent performance is not affected.
In addition, sound-absorbing aluminum panels is light, pollution-free, anti glare, anti aging, impact resistance, anti freeze and thaw, sound absorption coefficient stable, moisture resistance, corrosion resistance, easy to bend, easy to process, easy to transport, easy to assemble and maintain, reasonable cost performance, and can spray all kinds of colors.