PVDF ALUMINUM PANEL is a high-end decorative material in modern interior decoration projects, so domestic decorative material manufacturers are also keen to develop the material value and continue to deepen the material manufacturing process. But at the same time, due to the limitation of the material manufacturing process, the current domestic manufacturers in the production of fluorocarbon sprayed aluminum plate materials also have a very obvious phenomenon of mixed good and bad. At the same time, it is difficult to distinguish between true and false, which has brought many troubles to the construction unit. Therefore, before carrying out the construction of material interior decoration, the construction unit needs to make an all-round inspection of the production capacity and product quality of the material purchasing manufacturer, for example, through the observation of the production scale, whether it has core production technology, etc., comprehensively evaluate the manufacturer production capacity, and avoid defective and substandard products from entering the construction site.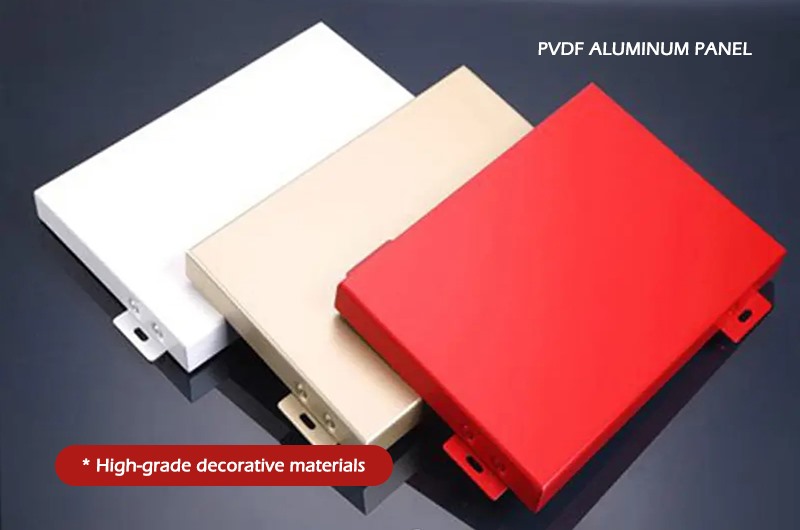 PVDF ALUMINUM PANEL needs to complete the preliminary treatment work in the actual construction site of the interior decoration project. The main purpose of processing work is data measurement. The traditional material data measurement method is the tape measure method, but with the development of technology, the error problem of the tape measure measurement has brought trouble to the construction, so it is gradually replaced by other measurement technologies. In order to ensure that the aluminum plate material can have high precision, the data measurement method on the construction site can be completed by using the infrared range finder equipment. In terms of the on-site processing process, the relevant construction personnel of the construction unit need to clarify the processing characteristics of the aluminum sheet material. The author concluded that the strength of fluorocarbon sprayed aluminum plate is relatively high, so in the interior decoration processing, a step-by-step processing method can be adopted. In the installation area, the aluminum plate processing should first complete the regional installation, and then according to the measurement data The corner plate is processed to ensure that the processing accuracy of the corner position is up to standard.
In the interior decoration and installation project of PVDF ALUMINUM PANEL, the most common and also the most difficult construction problem is the splicing gap problem. Once the splicing between multiple aluminum plate materials is not strict, in addition to causing a decline in aesthetics, it will also affect the aluminum plate. The practical application quality of the material. Therefore, in the construction process, the construction personnel of the construction unit need to reasonably control the thickness uniformity of the adhesive, and at the same time, temporary fixing materials should be added. The material must be fixed for more than 12 hours before it can be removed.