Aluminum curved panel is a product mainly made of high-grade aluminum alloy and processed by various processing processes such as cutting, flanging, arc bending and welding. Aluminum curved panel has the characteristics of light weight, high strength, good rigidity and easy processing. It is widely used in building exterior wall decoration, indoor wall, ceiling and other fields.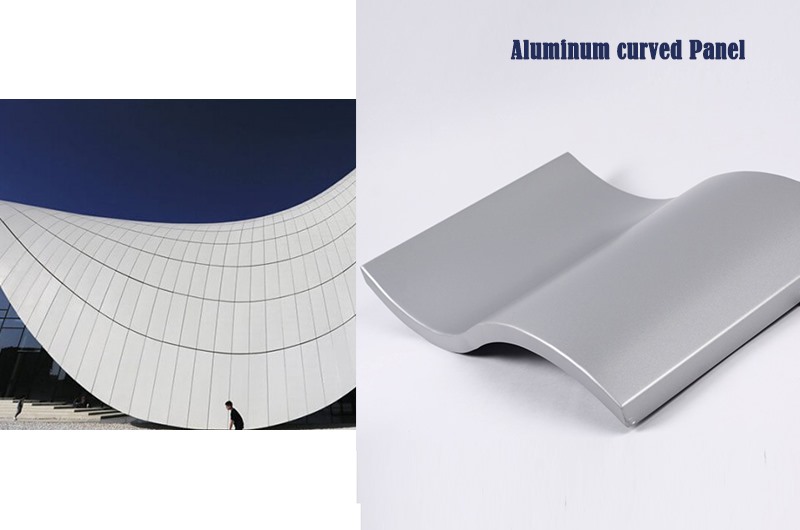 Aluminum curved panel application:
It is mainly used for decoration of external walls of buildings, internal walls, ceilings, foyer, facade, wrapped columns, grid structure, outdoor floating shed, etc;
Material: 1050, 1060, 1070, 1100, 3003, 5005, 5052, etc
Processing method: customized processing with drawings and samples.
Aluminum curved panel performance features:
Aluminum curved panel has the characteristics of light weight, high strength, good rigidity and easy processing;
It has good corrosion resistance and can be used under severe conditions of - 50 ℃ - 80 ℃;
Excellent processing performance, easy to cut, weld and bend, can make shape and facilitate site installation;
It has good sound insulation and shock absorption performance, and can punch holes arbitrarily on the aluminum veneer. It can also add sound-absorbing and heat-insulating materials such as sound-absorbing cotton and rock wool at the back, with good flame retardancy and non-toxic smoke in case of fire;
Easy to clean, easy to maintain, in line with environmental protection requirements;