The aluminum honeycomb panel is made of a 3-series aluminum honeycomb as the core material, and the upper and lower surfaces are laminated with a composite aluminum alloy panel. After combining the honeycomb aluminum core material and the composite aluminum alloy panel, a metal composite material formed by one-time brazing is used. The composite panel is a 3-series aluminum alloy. + 3-layer aluminum alloy composite material of 6 series + 3 series, in which the thickness of the 6 series aluminum alloy plate accounts for more than 90% of the thickness of the composite aluminum alloy panel. The structure has excellent properties such as high strength, high stiffness, high-temperature resistance, lightweight, sound insulation, heat insulation, shock absorption, etc. is riveted and glued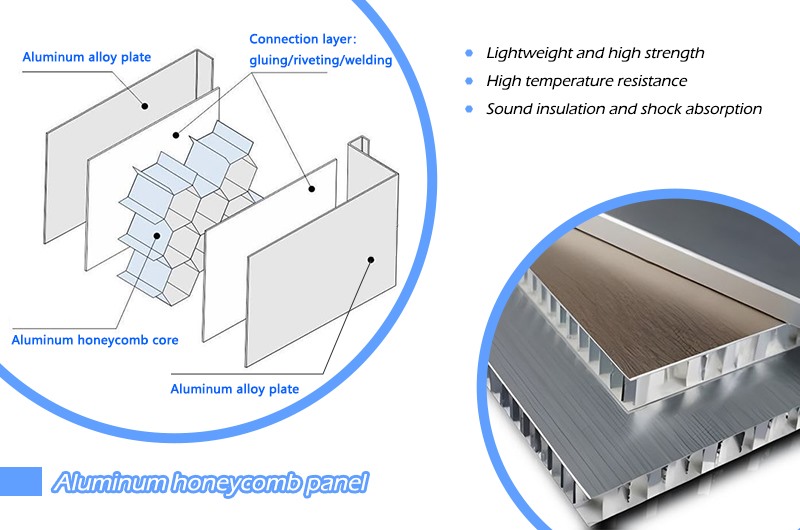 [1], but with the increasing requirements of lightweight, strength, and sealing, the riveting and gluing of aluminum honeycomb panels can no longer meet the requirements. Compared with riveting and gluing, welding has better strength and sealing performance. When fusion welding is used, due to uneven heating of the weld and melting of the solder, it will cause large deformation and many defects, and a good weld cannot be formed. At present, the focus of research on the connection technology of aluminum honeycomb panels at home and abroad is mainly on gluing and riveting. There are no research papers and patents related to welding technology of aluminum honeycomb panels, so the research on the welding technology of aluminum honeycomb panels is more urgent.
Friction Stir Welding (FSW), as a solid-phase joining method, is a welding method in which plastic forming is accomplished by frictional heat generation between a stirring needle and a welded joint. Advantages of high seam strength[2-5], so that the influence of the solder on the surface of the aluminum honeycomb panel on the quality of the weld can be reduced, and it is suitable for the welding of aluminum honeycomb panels. However, during friction stir welding, there is a large pressure on the shoulder of the stirring head, and the honeycomb aluminum panel is a hollow structure, which will cause the surface of the aluminum honeycomb panel to collapse under pressure during welding; at the same time, if the weld metal has insufficient fluidity during welding, it will also Cause solder to aggregate and cause defects.
In this paper, by designing a mosaic welded joint, the problem of the collapse of the aluminum honeycomb panel caused by the large pressure of the welded joint during friction stir welding is solved. The brazing filler metal gathers; by analyzing the mechanical properties of the weld, X-ray inspection results and observing the metallographic structure, optimizing the welding process parameters, studying the welding process problems of the aluminum honeycomb panel and 5A05 aluminum alloy friction stir welding, and solving the aluminum honeycomb panel joints. Issues such as high strength and tightness provide technical support for the application of aluminum honeycomb panels as lightweight materials in aerospace and electronic fields.